Inks for Flexible Packaging
The power of graphical messages is more than people could think of when people standing in front of the shelves in the supermarkets or convenient stores. The packaged foods and PET bottle soft drinks are within reaching distance in everyone's daily life.
What people do not know is that TiTAS titanates help the colorful printing inks attached firmly on the plain OPP films. Think about what if no titanates, normally NC/PU or NC/PA inks will easily fall out from the substrates, not even to say the frozen food or cold drinks in the fridge which sustained at low temperature.
Look into the mechanism, alcohol will be evaporated during the heating process, TiTAS titanium chelate will help linkage to substrate and resin.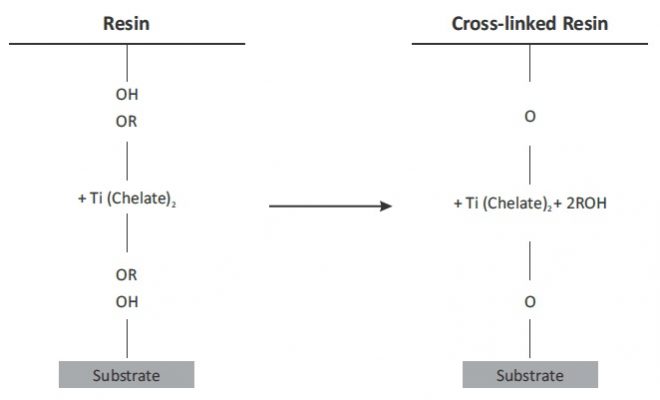 Advantages of TiTAS Titanates
NC/PU or NC/PA film forming resins normally provide acceptable film strength after solvent evaporated. TiTAS titanates will upgrade the solvent resistance or heat resistance to next level, therefore, graphical print can last during long term frozen environment. The substrate has to be corona treated till 38 dyne or above readily for printing.
TiTAS TIC30 is a titanium phosphate ester complex listed on Swiss Ordinance for non-food contact printing inks. The unique performance combining titanate and phosphate ester properties brings the flexible printing industries more possibilities to promote their products. Though most of the people do not really know, TiTAS TIC30 is so reachable around.